Jim Dunn Memorial Scholarship Twilight 5-Miler
(Jim Dunn Run)
Friday, July 17, 2020
Time: Gates open at 5pm. Race starts at 7pm, rain or shine!
Location: Wharf Street Parking Garage – Morgantown, WV 26505
Cost: $30 before noon on July 16 and $35 on event day
Parking: Free parking will be provided on a first come, first serve basis at the Wharf Street Parking Garage. Limited exit during the awards ceremony from 8-10 pm.
5-Mile Run Course
Runners will be staged at the Wharf Street Parking Garage in the Wharf District near Oliverio's Restaurant. The runners will following Clay Street to the end, turn right onto the paved Caperton Rail trail and head north past Hazel Ruby McQuain Riverfront Park (HRMRP) to the WVU Core Arboretum (WVU AC).
Upon entering the WVU AC, runners will encounter a single-track dirt trail until the mid-point of the loop back on the rail trail. Runners will complete the final two miles on the rail trail to the finish line near HRMR – just before the Decker's Creek Bridge. Except for a slight uphill approach to the WVU AC, the course is primarily flat or downhill.
The 5-miler is part of the Morgantown Grand Prix Series.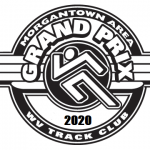 2-Mile Walk Course
Beginning at the Wharf Street Parking Garage, walkers will follow Clay Street to the end, turn right and then left on to the Caperton Rail trail, go south on the trail to a turnaround point past the Morgantown Lock and Dam and return to the finish line behind Oliverio's Restaurant. Mile markers will be positioned along the trail.
Food and Beverages
The cost of dinner and beverages is included in the registration fee for runners and individual walkers only. Extra meal tickets can be purchased online and at the event. Oliverio's Ristorante will provide dinner. Two coupons per registered participant can be redeemed for legal beverages provided by Mona Supply. Don't forget your ID!
Awards
Top 3 male and female
Top 3 in age groups* for male and female
*Age groups: 15 and under, 16-19, 20-24, 25-29, 30-34, 35-39, 40-44, 45-49, 50-54, 55-59, 60-64, 65-69, 70+
The Jim Dunn Memorial Scholarships benefit WV high school senior athletes continuing in track or cross country in college.
5-Mile Run Map